Proud of Fair Data quality mark
Published on March 4, 2021
We are proud to announce that we meet the requirements to be allowed to carry the Fair Data mark. Fair Data is a hallmark of the MOA that offers consumers insight into which Marketing, Insights and Analytics organizations deal responsibly with data and personal data.
With the Fair Data mark of quality, the MOA wants to offer consumers security in the growing debate and concerns about privacy and data. This is badly needed because European research has shown that 70 percent of all Europeans are concerned about the misuse of their personal data.
Only organizations that are a member of the MOA, and therefore meet the strict quality requirements in the area of handling personal data, may use the Fair Data mark and thereby show their clients and consumers that data and privacy are in safe hands with them.
In addition, the MOA has drawn up the Fair Data Privacy Code to make it clear to consumers which organizations must comply with. This offers the consumer something to hold on to.
Concerns are growing
At the moment, it is difficult for consumers to quickly and easily distinguish between an organization that intends to handle consumers' personal data in a transparent and ethical manner and one that does not.
There is no special logo or figurative mark that allows consumers to make that distinction. By using a new, specially developed hallmark, consumers can make that distinction and choose to whom they will or will not give personal information. This is why the MOA, Center for Marketing Insights, Research and Analytics, is introducing the Fair Data quality mark.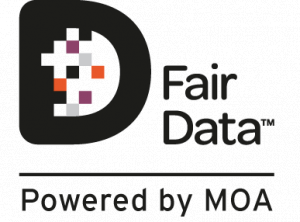 These concerns call for transparency so that consumers know where they stand.
Transparent and ethical
Feedback Company shows with this quality mark that we deal transparently and ethically with data. These Fair Data companies will never use the information obtained without the consent of the consumer for other purposes than those for which the consumer has provided the data.
In cases where it is not possible to obtain this permission in a reasonable way a Fair Data company will inform the consumer as well as possible about the use of the obtained information.
Integrity Code
The Fair Data mark of quality is an industry mark that may only be used by marketing, insights and analytics organizations that are members of the MOA. The use of this mark on the statements of these organizations indicates that they work according to the ten basic principles of the Fair Data Privacy Code.
Research organizations that are members of the MOA have also signed the code of integrity approved by the Authority for the Protection of Personal Data (formerly the Dutch Data Protection Authority) in 2010. This code has also been published in the Government Gazette and is binding on the research organizations and the researchers employed by those research organizations. Only these research organizations may carry the Fair Data logo.