Feedback Company's employee research provides broader and continuous insight into themes such as motivation, involvement, engagement and customer focus. The result is directed actions towards improvement.
Dashboard with guided information
Consultancy and improvement reports
Continuously listen and improve experiences for each employee.
Why should information about work experience not have the same validity as information about turnover, growth, absenteeism? Company results, customer satisfaction, employee engagement and involvement are strongly linked!
In each theme an open question is included to stimulate the employee to contribute their own ideas or solutions to improve that theme.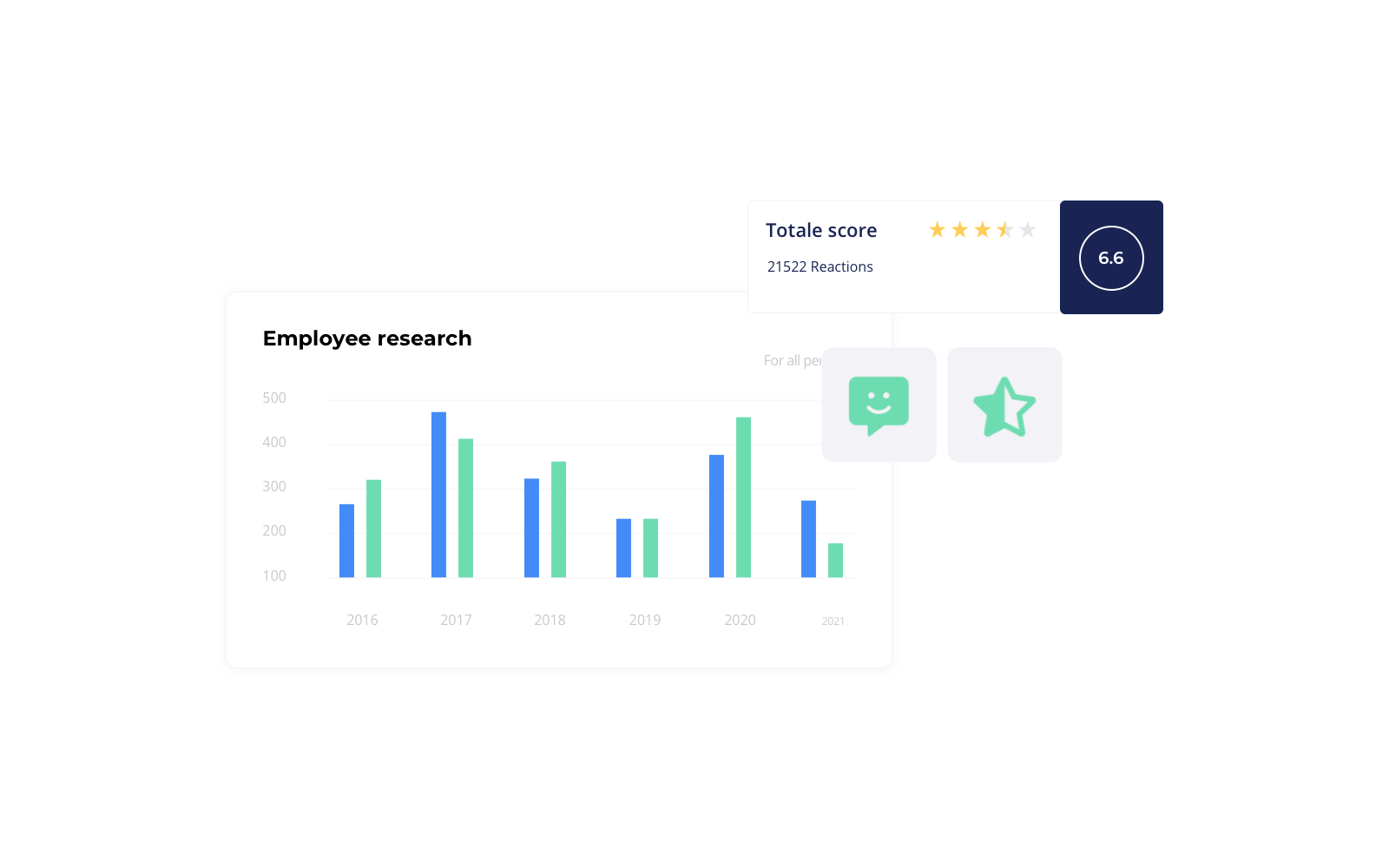 15 themes
Themes include, but are not limited to; engagement, culture and leadership.
Points for improvement
Zoom in on improvement points for each of the selected themes.
Short and to the point
No long questionnaires or bulky reports.
HR & Management
The survey provides interesting guided information for change.
Why choose Feedback Company?
Short-term contracts
We are the only company that offers short term contracts starting from 3 months. This way you have the possibility to try it out without a considerable investment.
All-round reputation
Would you like to get more detailed information, guided by research to improve your services? We also offer extensive customer satisfaction research with consultancy and a track to improvement.
Established in the Netherlands
Made in Holland! Founded in 2010 and operated from 'De Jaarbeurs' in Utrecht since 2014. We are the only reputation management solution provider which is still in Dutch hands. We are secretly quite proud of this.
Google Premium Partner
Around 30 organizations worldwide are allowed to carry the label 'Google Premium Review Partner'.
Price-quality
We build all of our solutions in-house. This ensures a quick turnaround time in development and high quality at a favorable fee.
Integrations
Automatically send invitations through your webshop, CRM, CMS or an other application? No problem. Our API link takes care of it.
We are fair
As a Google review partner, we greatly value reliability and honesty, and we even throw in a few safety check-ups. Our feedback is verified for authenticity, and always checked according to a set checklist.
We rise to a challenge
Sitting still is not something we do. Comfort zones, we don't do either. Feedback Company prefers to be top of the class. We achieve this by innovating, coming up with new technical solutions and keeping a cool head.
We believe in data
Data pushes us in the right direction. Thanks to data analysis, our own consultants, research methods and benchmarking, we are able to gain in-depth knowledge in the field of feedback.
No complex reports
We often see a traditional approach whereby the work experience in most organizations is surveyed once every two years at most: with a long questionnaire, lengthy report, presentation and improvement plan. With only the hope that there will be an upward trend.
Zoom in on the points for improvement
In each theme an open question is included to stimulate the employee to come up with their own ideas or solutions for improving that theme. From experience, we know that when you zoom in on the mentioned points for improvement, these development themes are brought to the attention of both management and employees for a longer period of time.
A selection of the themes:
N

Culture

N

Working atmosphere

N

Collaboration

N

Engagement

N

Development

N

Work-life balance
N

Communication

N

Organizational goals

N

Commitment

N

Leadership

N

Connectedness

N

Enthusiasm
Meet?
Complete the form below and we will be happy to help you.
Frequently Asked Questions
How long does the contract run?
At Feedback Company you can start from 3 months. This way you can try at your own leisure to see whether this is something for you.
What is the difference between reviews and research?
Customer research provides in-depth insights into the performance, per business process. This allows for targeted measurement and improvement. Company reviews measure experiences with the organization.
What is the notice period?
Feedback Company offers short-term contracts from 3 months onwards. The contract is automatically extended by another 3 months.
Can I upgrade in between?
You can always upgrade your existing package. Feedback Company offers solutions for collecting reviews to extensive satisfaction research based on certain processes.
I want to switch. Can I import my reviews?
Importing previously collected reviews is no problem, as long as they were collected through a Google review partner.
Can I connect my platform?
Feedback Company has ready-to-use integration with the most used webshop/website platforms. This way you can easily send automatic invitations.
Is my data safe?
Of course, Feedback Company is 100% GDPR compliant. Your data and that of your customers are safe with us.
To who can I go with my questions?
We have a special team that is happy to help you! Reachable by phone and/or email. They are ready to answer your questions every weekday.